From Neighbourhood Watch Leicester
Written by Northamptonshire Police
Saturday, 26 March 2016 09:09
Published on Thursday 24 March 2016 at 15:44
POLICE are appealing for witnesses following a suspected distraction theft in Waitrose, Daventry town centre.
The victim, who was in her 80s, was shopping in the store when a man started to ask her questions about toothpaste. It is believed a second man took the victim's purse out of her handbag and handed it to a third man. All three men then left the shop.
The incident happened between 2.30pm and 2.40pm on Saturday, 12 March.
Officers have released CCTV images of three men they believe may have information about the incident.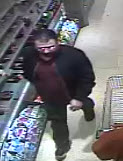 Witnesses or anyone who recognises the men pictured are asked to call Northamptonshire Police on 101.
Alternatively, they can call the independent charity Crimestoppers anonymously on 0800 555.
If you have elderly relatives or neighbours please help them to not fall victim to distraction fraud
It takes seconds… to be distracted
Shoppers are stopped and asked questions or directions by visitors who try to distract a potential victim.
Valuables are then stolen from cars or bags while the victims are kept distracted.
In some cases the thieves have watched people enter PIN numbers in the store before distracting them in the car park and taking purses and wallets.
It takes seconds… to protect your valuables
Be vigilant when entering your PIN – make sure you cover the keypad on both chip and pin machines and at cash points every time you enter your PIN number.


Keep your valuables secure – never leave them unattended, even for few moments. Keep your belongings tucked away safely in a zipped pocket or bag and use a purse chain if you have one.


Report stolen cards – if you lose your wallet, report it to your bank immediately.


Mobile phone tracking – if you have a smartphone install the app that helps you trace your device if it gets lost or stolen. Contact your service provider for details on what's available.