'Do it for the Grange' is our event slogan for this years 'Keep Britain Tidy' – 'Clean for the Queen'
Last years 'National British Clean Up Day' was a huge success – let's make this one even better.
Join the UK's largest litter pick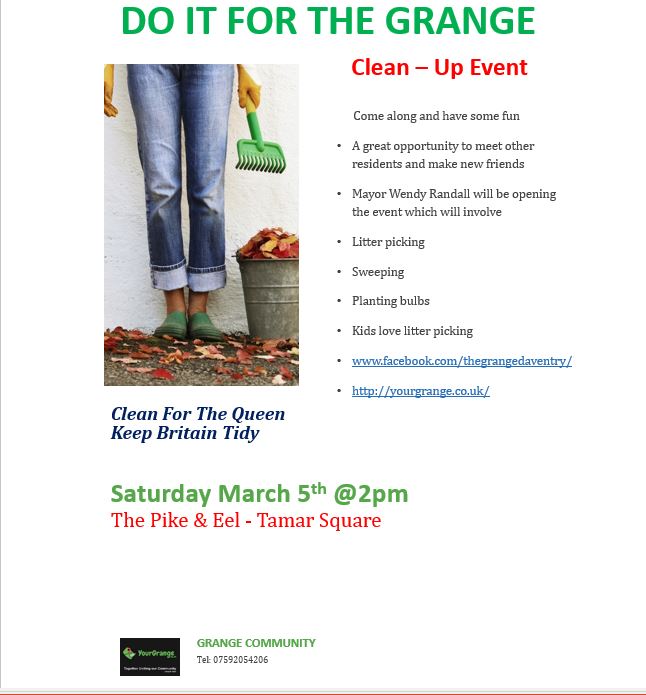 Waitrose – Daventry who are supporting Keep Britain Tidy will be providing us with a free 'Clean for the Queen' kit as well as representatives to help us.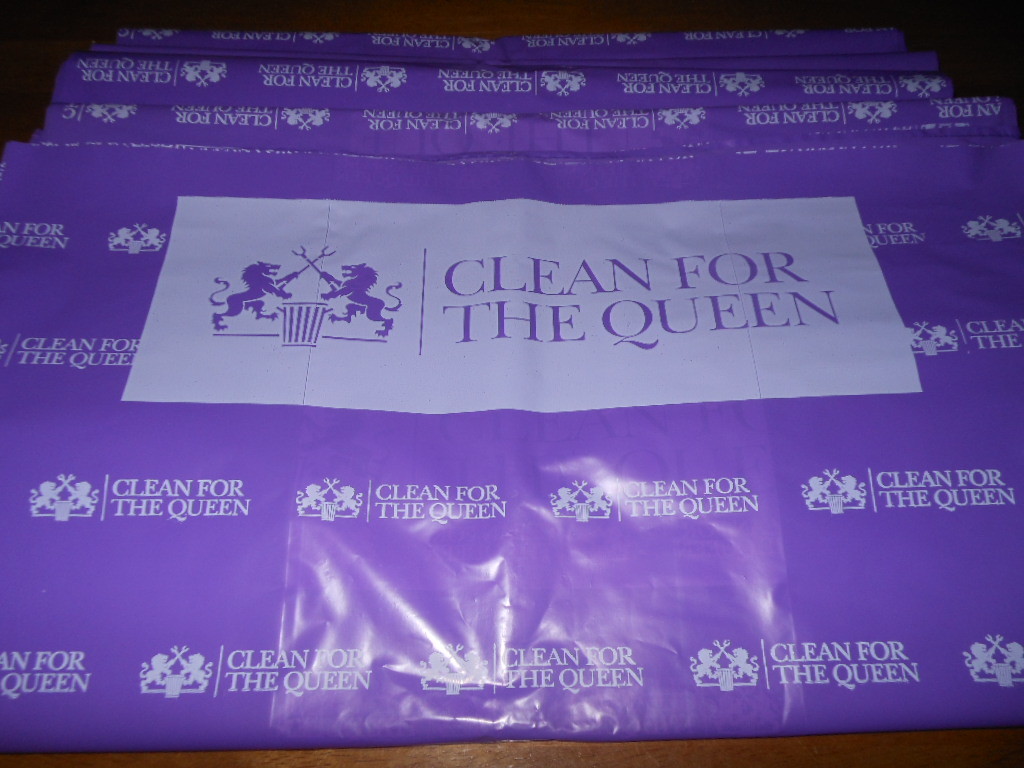 If you are one of our 40 resident litter pickers who are joining in with the event please can you come armed with your own litter pick stick.
We will meet at The Pike and Eel Pub @ Tamar Square, Bev the Landlady who always supports our community events has again kindly let us use her facilities.
Do it for the Grange will start @ 2pm until 4pm.
We will be litter picking, weeding, planting bulbs and sweeping so there is plenty of things for everyone to do.
A Huge thank you to Psco Paul Harris for asking and fetching bulbs and seeds that Homebase Daventry have donated to us for our 'Do it for the Grange' event.
We have Lupins, Dahlias, Gladioli, seeds to attract bees and seeds to attract butterflies.
Homebase will also be donating loads of Daffodil bulbs.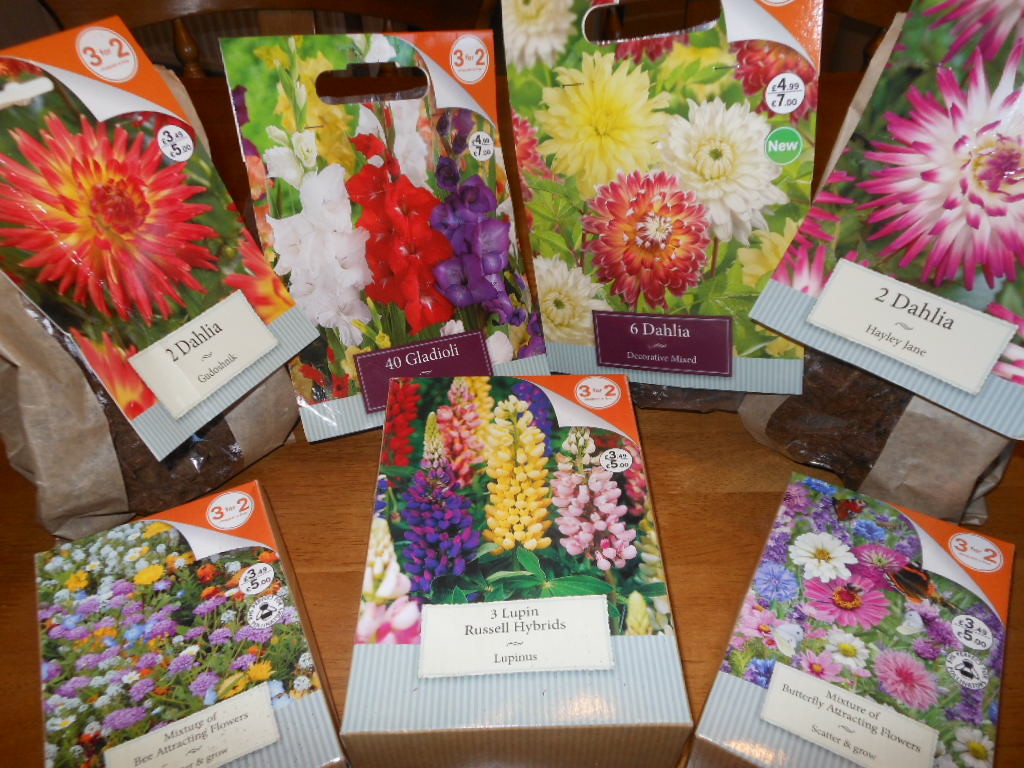 Thank you to our SCT Pcso Paul Harris and PC Michelle Townsend who approached McDonald's on our behalf.
We won't be going hungry on the day, McDonald's have donated 30 happy meals for our volunteers… I'm Loving It
Thank you Tesco Daventry for providing a tray of 72 doughnuts for our hungry volunteers.
The Grange Premier Convenience Store another local business who always supports our efforts will be providing snacks and refreshments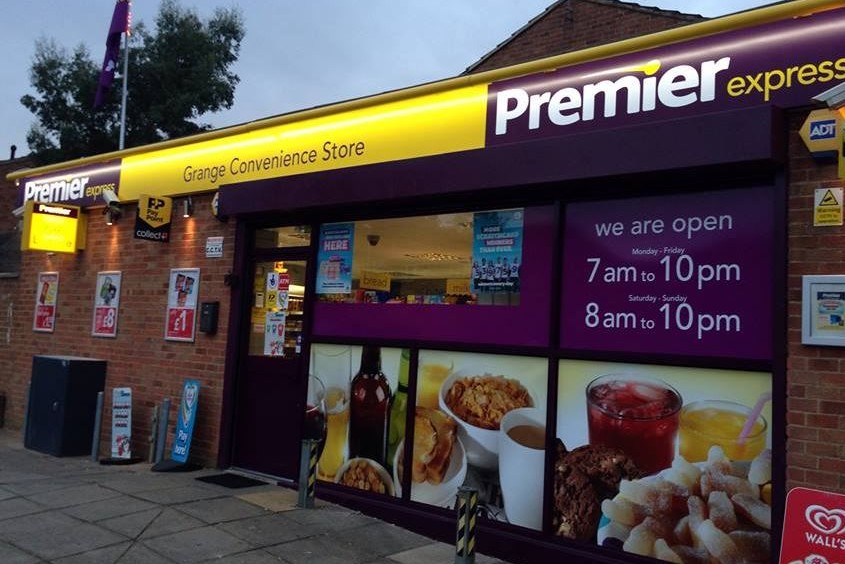 Litter Facts
It costs taxpayers in excess of £500m annually to clear the streets of England, and that doesn't include parks or other public spaces.
The rat population has boomed to 60m due to the huge amounts of litter around.
An estimated 122 tons of cigarette butts and cigarette-related litter is dropped every day across the UK.
  Over 69,000 animals killed or injured by litter last year in Britain.
Time it takes for litter to decompose in the environment:
Not biodegradable – Glass bottles and chewing gum
600 years – Monofilament Fishing Line:
450 years – Plastic Bottles:
450 years – Disposable Nappies:
80-200 years – Aluminum Can:
50 years – Foamed Plastic Cups
50-80 years – Rubber-Boot Sole
50 years – Tin Cans
50 years – Leather
30-40 years – Nylon Fabric
20-30 years – Plastic Film Container
10-20 years – Plastic Bag
up to 12 years – Cigarette Butt
1-5 years – Wool Sock
1-3 years – Plywood
3 months – Waxed  Carton
2 months – Apple Core
6 weeks – Newspaper
2-5 weeks – Orange or Banana Peel
2-4 weeks – Paper Towel
Previous Clean-Up Events