Middlemore held its first Community Cleanup event on Saturday
A huge thank you to all the volunteers who joined in
Myself and Wendy Randall from The Grange Estate helped out.
The event was organised by Karen Tweedale who is a Daventry Town Councillor and also part of the Middlemore Residents Association. The aim of the clean up event was to not just rid Middlemore of the rubbish built up in the hedges and verges but to also bring the community together.
Thirtyfour volunteers turned up including children, once we were all kitted out off we went litter picking everywhere in ditches and hedges. Initially the opinion was that there wasn't going to be too much litter, how wrong we were. What you can see from the side of the road is just the tip of the iceberg, get up close and you will be surprised at just how much litter there was.
My task was to poo spray but to be honest there wasn't too much dog fouling on the verges, what there was a lot of and I would say it was of epidemic proportions was full dog poo bags decorating the trees.
Littering is a criminal offence; you can be fined up to £2,500, or you may receive a fixed penalty notice and be fined £75.
I don't think I have ever seen so many full dog poo bags decorating trees like this before
At least when they are left on the ground they can be removed but there wasn't a cat in hells chance that anyone of us could reach most these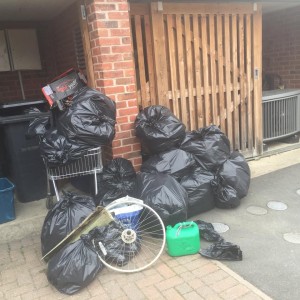 This is some of what was collected in the space of two hours, we filled 31 sacks, found a trolley… it's not a litter pick without coming across a shopping trolley, a bike wheel and a petrol can. Smashed glass was swept up from the childrens play area and the bags we could reach were removed from the trees.
A great time was had by all, it was lovely to see so many turn up and very rewarding to see the efforts of everyones hard work. We have held four cleanup events on The Grange estate over the past year, each one gets bigger and better meeting more and more people in our community and forming friendships.
Middlemore has its own Facebook page
Middlemore Residents Association