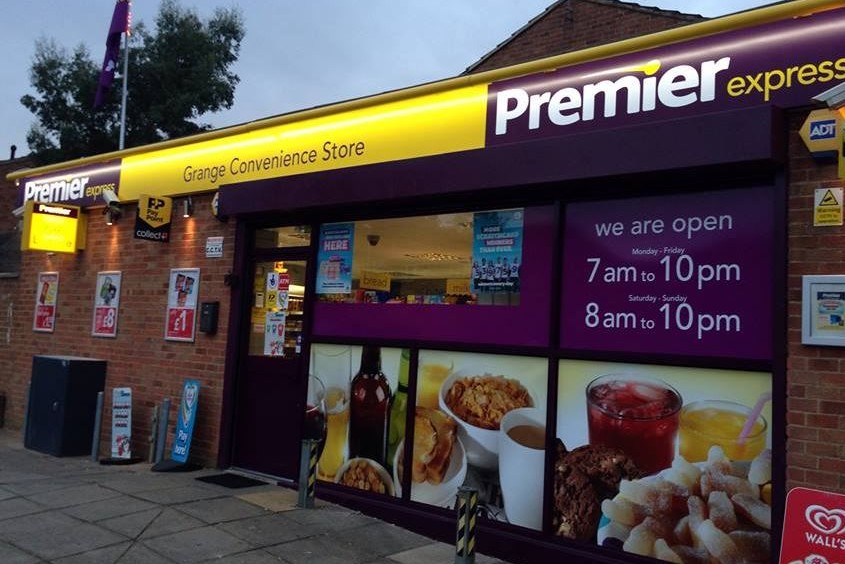 Opening Times
Open 7 Days Week
Monday :        7am – 10pm
Tuesday :        7am – 10pm
Wednesday :  7am – 10pm
Thursday :      7am – 10pm
Friday :           7am – 10pm
Saturday :      8am – 10pm
Sunday :         8am – 10pm
Location & contact
The Grange Convenience Store
63 The Wye
Daventry
Northamptonshire
Tel : 01327 871998
View full sized map
Services
Click and Collect Plus
Say goodbye to queues and enjoy having the freedom to send your parcels at a time that suits you, there is 20% off your first order placed on the Click plus website.
PayPoint – Just pop in and pay the convenient way
With Paypoint you can Pay bills, transfer money, top up your mobile, pick up a mail order delivery or even pay for parking – at your Grange Convenience Store
Off-Licence
Groceries
Newsagent
Tobacconist
Confectionary
Lottery
Frozen Foods
Chilled Foods
Wide range of wines, spirits, ales and chilled beers.
About
In just 3 years The Grange Convenience Store has become a hub for the community in which it serves 365 days a year.
So far we have given back to the community
2 free fun days
Fireworks displays
3 Prize giveaways
4 Provided prizes for community events
5 Sponsored various charities customers have requested support for
Provided resources & staff needed in the area for litter clean up campaigns
Support the Air Ambulance Service
Sponsor Daventry Town Football Club
Sponsor Drayton Grange Football Club under 11 years
Sponsor Daventry Women's Hockey Team
We also support local and national events like Children In Need.