Daventry's community stars enjoy the limelight
An awards event celebrating the Daventry district's community heroes attracted over 100 guests and honoured over 20 inspirational people last week.
Held at Daventry Community Centre on Friday 11 December, the fourth annual Star Awards, organised by Daventry & District Housing, showcased the significant achievements of volunteers, local businesses and community groups.
The event, which was attended by a number of local VIPs, including Daventry MP Chris Heaton-Harris and the Mayor of Daventry, Cllr Wendy Randall, featured seven award categories. Details of the winners and finalists can be found below.
Alan Brunt, Daventry & District Housing's Interim Executive Director, said: "It was great to celebrate the commitment and dedication of so many of the district's most committed volunteers. There were plenty of inspirational stories and the fact that finalists were nominated by the public shows just how much they are valued by their community.
The finalists and winners in for this year's Star Awards were as follows:
Neighbourhood Hero
Winner: Daventry Food Bank
Providing vital supplies to local families that have hit on hard times, the Daventry Food Bank serves those suffering a short or long-term crisis. It is reported that one in five people in the UK fall below the poverty line but charities like Daventry Food Bank aim to tackle this crisis and prevent food poverty. Daventry Food Bank has helped thousands of people and families across the Daventry district. Supported by incredible volunteers, they hand out a significant number of food parcels each year.
Shortlisted: Derrick Bowditch, Jacquie Ward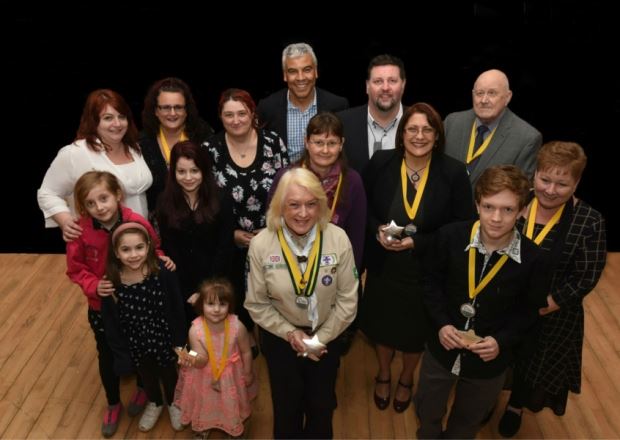 The Winners – The 2015 Star Awards winners with DDH Interim Executive Director, Alan Brunt DDH Star Awards 2015
Community Impact
Winner: Jacquie Ward
Determined to make her community a more pleasant place to live, Jacquie decided to pick-up litter on the Grange estate in Daventry, each day walking further and further, cleaning up litter and gaining the respect of local residents. Two years later, after going out on the estate almost every day, Jacquie has helped improve the local environment, brought the community closer together and improved Police, local authority and resident relationships. There is now less crime, less litter and less dog fouling on the estate.
Shortlisted: Green Acres Rural Enterprise Centre, Rebecca Lane-Johnson
Excellence in Enterprise
Winner: Eliese, Pine Tree Counselling for her work on the DDH hoarding project
Eliese is integral to the unique project led by DDH which offers hands-on help to tenants suffering from hoarding tendencies. She supports clients to dispose of items, reorganise rooms and change shopping habits to help tackle behaviour. Her positive and understanding attitude has contributed to the success of this project.
Shortlisted: Julie's Catering, Milly Moo Cards and Gifts
Educational Achiever
Winner: The Daventry Home Education Group
Launched in 2014, the Daventry Home Education Group originally started on Facebook. It now supports 35 families and holds weekly meetings for children who are home educated. Run by parents, the group provides an educational and social opportunity and organises a whole range of events and trips. The group strongly encourages children to take part in creative activities and reaches many young people that hadn't been able to flourish in a school environment.
Shortlisted: Jamie Houston, Max Jeffers
Outstanding Volunteer, Pictured (left to right) Georgina Miles and Alan Brunt. DDH Star Awards 2015
Outstanding Volunteer
Winner: Georgina Miles
Georgina has been involved in Scouting for nearly 50 years. Starting out as a Cub Scout Assistant Leader, she has served at local, district and county level. Georgina has also formed a new group, which is attended by 83 young people and serves Pitsford, Boughton and surrounding villages. As well as being Group Scout Leader, Georgina is leader of the Beaver section and fundraises for children in Uganda. The Scout Group often donates funds to the Outspan School in Uganda, where Georgina hopes to take a group of Explorer Scouts next year.
Shortlisted: Anita Davidson, Max Spittlehouse
Young Ambassador, Pictured (left to right) Jordan Gray and Alan Brunt DDH Star Awards 2015
Young Ambassador
Winner: Jordan Gray
Since joining the DDH Youth Board in January 2013, Jordan has been a dedicated member of the group and is always the first to volunteer for community events. He has volunteered over 100 hours this year and helped with a wide range of community projects, including distributing Christmas Hampers and supporting the Family Cinema Event, Rural Roadshows and an intergenerational Halloween event.
Inspirational Person
Winner: Bryan Pawley
Bryan is extremely committed to tenant involvement at DDH and volunteers a large amount of his time to attend meetings and events. He is well respected by other tenants who value his knowledge and experience, his positive outlook and friendly approach. Bryan is a key member of the Tenant Scrutiny Panel and gained a CIH level 3 award in Resident Scrutiny to help him carry out his role to the best of his abilities. Bryan is a fantastic ambassador for DDH tenants and helps support tenants of other social landlords to set up their scrutiny panels. He has also represented DDH on the regional East Midlands Tenant Participation Forum committee for two years
Shortlisted: David Marriott, David O'Farrell
The panel of judges was made up of representatives from DDH, Connexions, NAYC, Access Training and the Enterprise Cube, as well as local town and county councillors, including Daventry Mayor Cllr Wendy Randall.
The awards were also generously supported by DDH's partner organisations and local businesses, including Daventry District Council, P J Lilley and Juice Sound and Light.
Read More: DDH
Read more: Daventry Express