It was teamwork today as Amey call centre staff from Liverpool came out to Daventry to do a volunteer litter pick.
The Grange Estate was their first port of call, I met with them at the Pike Park and apologised if I ever sounded abrupt when I have spoken with them on the phone I have one of those voices that comes across like that.
Amey staff couldn't get over how lovely our estate is, a beautiful space with lots of green areas and literally no litter, I was asked if I would like to go to Liverpool and live on their estate.
Thank you Amey staff for coming out to Daventry and to our Grange Estate any help we can get to continue to improve our estate is always very much appreciated.
Initially it was me Harvey and Owen, we cleared all the mess from around the Pike Park bench then moved onto Tamar Square.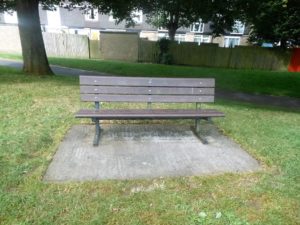 We were only going to clear by the bench and finish off the shrubs that the scouts had cut the other week.
It wasn't long before we were joined by more children Harley, Jack, (will add names as I remember them)
Who all attacked the overgrown shrubs with a great deal of enthusiasm and vigour.
We litter picked, swept, pruned, cleared up and sweat buckets.
I had no intention of cutting the grass but after we finished what we had set out to do it had to be done just to complete the look, so off we trotted to fetch my mower.
All the kids did a grid walk to check for obstacles before I cut the communal grass 3 times to get it down to a shorter length.
We set off at 9.15 this morning and finished at 1.30pm, it was hard work but very satisfying.
Thank you to all who spoke to us and thanked the children, a little praise goes a long way.
I think our estate children are amazing, thank you so much guys and gals I could not have done this without all your help you are wonderful and a pleasure to have around.