Unexpected or Latenight Callers
If you have or know any elderly or vulnerable family, friends or neighbours.
They have an unexpected or late night caller at their door.
Remind them to…
Put a light on.
Always look to see who is calling first.
Look out of a window.
Look through the spyhole in the door.
Always make sure your back door is locked.
Ring a neighbour to also take a look.
If you do open the door put the chain on.
Please remind them of Bowie's song 'Changes' & make sure they do the Ch-Ch-Chain-Check!!
Need a chain fitting correctly.
Call – Through the Keyhole Locksmith
Tel : 07512013846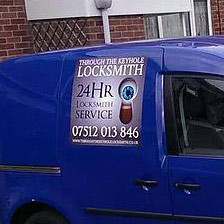 Meeting Your Security Needs
Open All Hours

Emergency Lock Opening

Free Full Security Surveys

Most types of locks stocked

Covering Oxfordshire, Warwickshire & Northamptonshire
NOT SURE – DON'T OPEN THE DOOR
Dealing with unexpected callers at your door
A distraction burglary is where a criminal calls at your home posing as an official or asks for your help with something.
They can make up a story to get into your home.
Burglars need not go to the trouble of breaking in if they can just knock on your door and be invited in.
Always be on your guard when anyone you're not expecting – a man, woman or even a child – turns up at your door.
Follow the advice on this page to help prevent you becoming a victim of distraction burglary.

LOCK – Keep your front and back doors locked even when you are at home.
STOP – Before you answer, stop and think whether you are expecting anyone.
Check you have locked the back door and taken the key out.
Look through a spy hole or window to see who the caller is.
CHAIN – If you decide to open the door, put the chain or door bar on first, if you have one.
Keep the chain or bar on while you are talking to the caller.
With PVC doors, it can be difficult and costly to fit a door chain.
Check with the manufacturer before you buy a PVC door, that a chain can be fitted.
FIRE SAFETY – Only put on your door chain as you answer the door, don't keep it on all the time as this could delay your exit in case of fire.
CHECK – Look at their clothing.
Some official callers will have a uniform bearing their organisation name or logo.
Even if the caller has a pre-arranged appointment with you, check their identification card carefully.
Close the door while you do this.
If you are still unsure, call the company concerned to verify their representative's identity.
If you're still not sure ask the caller to come back later when someone is with you.
Where do you leave your keys when you get home?
Please DO NOT leave your keys in view of a letterbox or window, this is an invite for criminals.
Keep them out of sight and when you go to bed take your keys to bed with you.
Fraud Targeting Elderly and Vulnerable Members of the Community
Police forces have become aware of a fraud circulating targeting elderly and vulnerable members of the community
Some older people have received telephone calls from a caller who purports to be from the GP surgery and is asking for an appointment to discuss the person's mobility needs.
During the appointment, the older person is persuaded to buy mobility aids which are either unnecessary or inappropriate and always expensive.
If you receive a call like this, please check with your GP surgery first before agreeing to a visit.